Adobe Photoshop®

/ Instagram Takeover
I was hired by Adobe Photoshop's social media team to do one of their artist IG takeover for a day. They wanted me to do something within my style of sneaker photo composites under the theme of EARTH, so a nature landscape disrupted by a giant sneaker was the obvious choice. I was having trouble deciding what sneaker to feature in the scene and then I remember there is ONE famous sneaker synonym with AIR. In my sneakerhead mind, AIR is a fundamental part of nature and allows life on Earth so this specific shoe fits the bill perfectly. And since I happen to have it, even better!
The Instagram takeover involved both me and Photoshop posting the artwork on our respective profiles but I also had to develop IG stories for both profiles. For @photoshop I created a series that is popular for their content. One of those "TAP-TO-EDIT" series of stories where the composite is being built with each story as I explain what I was doing. For my profile I created a series of TIPS so people can improve their photo composites.

The photo composite process
As you could expect from a project done for Adobe, all the stock photography used was sourced from
Adobe Stock®
. I had a pretty clear vision for what I wanted so finding the right assets was very easy. Once a found the right background picture, the rest of the assets will help fill it.
Since our main subject can't be found as stock photography, specially not in the right perspective and with the right lighting I had to take my own product shot. Luckily for me this is pretty much what I do in my regular commercial work so I was excited to do it.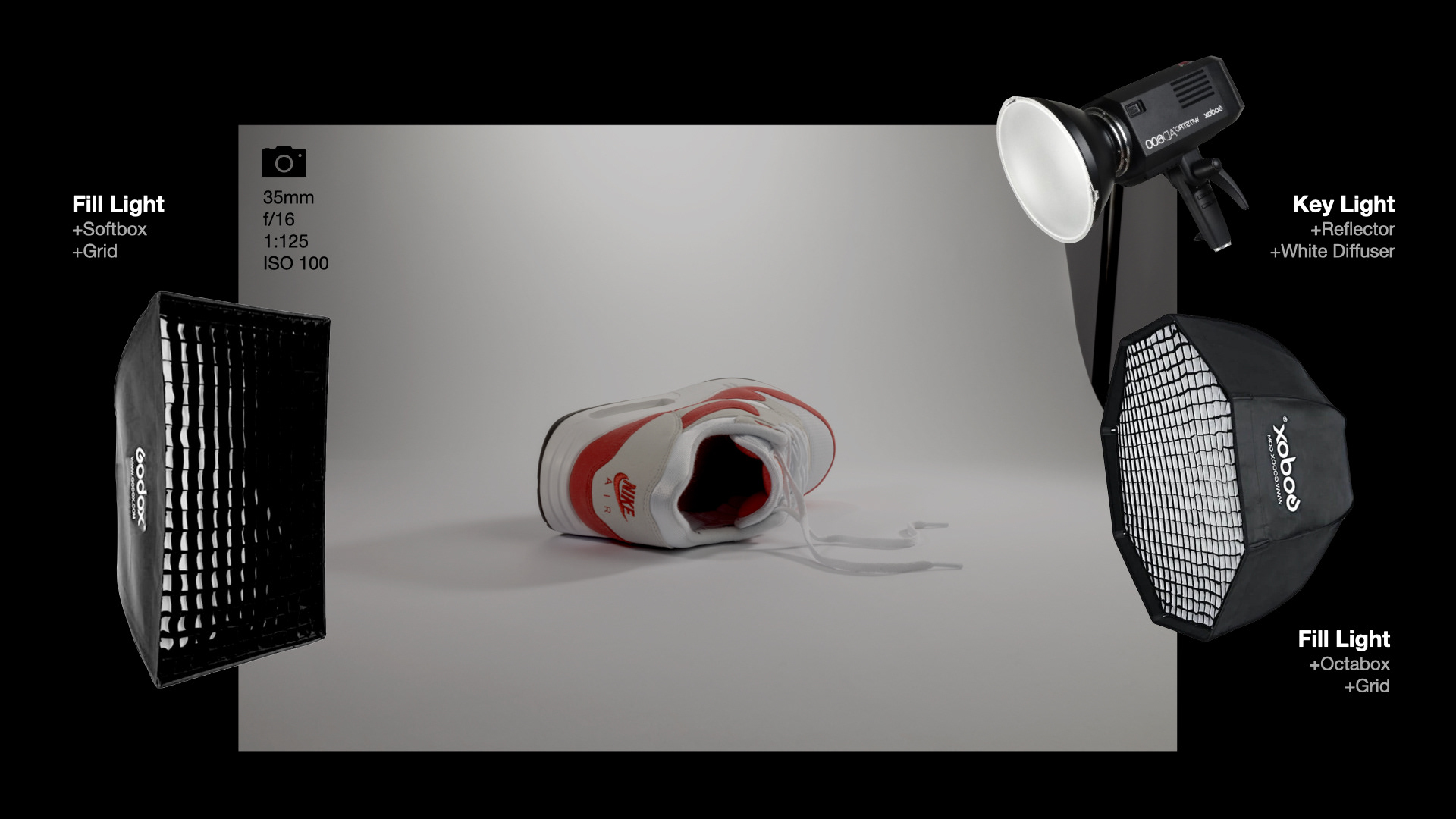 The lighting setup is pretty straight forward: ONE key light and TWO fill light with different modifiers. I wanted the scene to look like the stock photo of the mountains in the end but that means I need to push the main background photo of the forest a little bit because it is a little underexposed. This is why I shot the sneaker a little underexposed as well. This will allow me to bring everything up in terms of brightness and saturation. 
I pretty much always shoot a little underexposed than necessary so the information is there and I can bring it back up if I need to when developing the RAW file. After I developed the RAW file I retouched it a little bit and erased all visible branding from the product. Since this an artwork for another brand that is not the one on the shoe I was required to do so.
The photo composite process was simple yet not easy. Once I had all the elements it was just a matter of putting everything together. I obvious did all the work using
Adobe Photoshop®
but not the Beta version with Generative Fill and the Remove Tool. I worked on this project about a month before the public release. 
Feel free to check out my other projects. 
I'm sure you will find something you like.